SPECTACULAR FACADES WITH
VERTICAL GARDENS
MAXIMUM TRANSPARENCY
WITH FLOOR DEEP PANORAMIC
WINDOWS IN ALL ROOMS
UNDERGROUND
CAR PARK WITH
100 PARKING SPACES
GROUND FLOOR
+ 27 FLOORS ABOVE GROUND
263 APARTMENTS
(1 TO 4 ROOMS)
ARCHITECTURE EXECUTION:
TLBS ARCHITEKTEN, FRANKFURT,
JASPERS-EYERS ARCHITECTS, BRUSSELS
ARCHITECTURE DESIGN:
HELMUT JAHN, CHICAGO,
MAGNUS KAMINIARZ, FRANKFURT
BREATHTAKING VIEWS OVER THE
CITY AND UP TO THE TAUNUS
LOBBY WITH
24/7-CONCIERGE-SERVICE
ADDRESS: EUROPA-ALLEE 11,
60327 FRANKFURT
---
OUTSTANDING
ARCHITECTURE
CONTRASTS
CREATE OUTSTANDING
ARCHITECTURE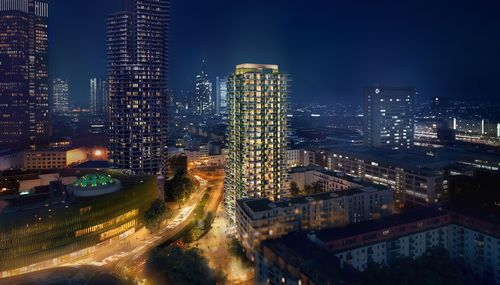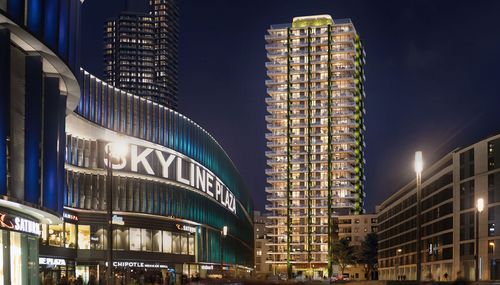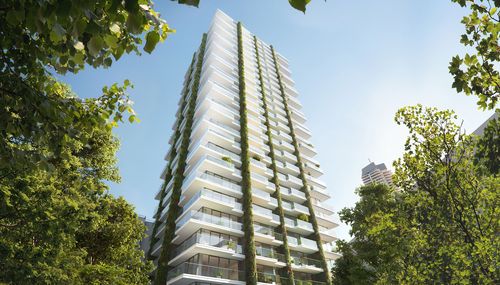 EDEN combines the best from two worlds: the concise forms of modern highrise architecture and the elemental force of private gardens. In the beginning there was the vision to develop a residential tower, which creates green oases for retreat, peace, security and deceleration in the middle of a cosmopolitan and vibrant global city. With breathtaking views, EDEN has one of the highest residential green façades in Europe.

Design by Magnus Kaminiarz & Cie Architektur (Frankfurt am Main, Germany) and by Jahn Architects (Chicago, US). Execution by Tilman Lange Braun & Schlockermann Architekten GmbH BDA (Frankfurt am Main, Germany) and by Jaspers-Eyers Architects (Brussels, Belgium).
---
APARTEMENTS
+INTERIOR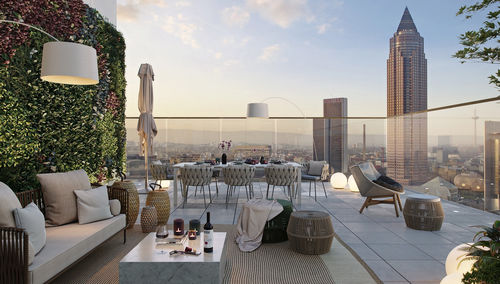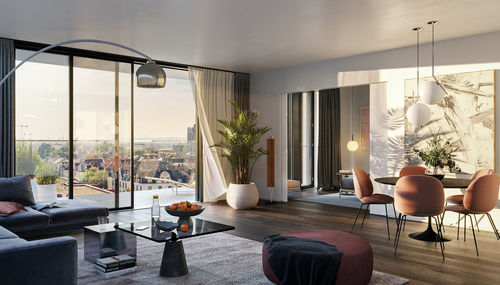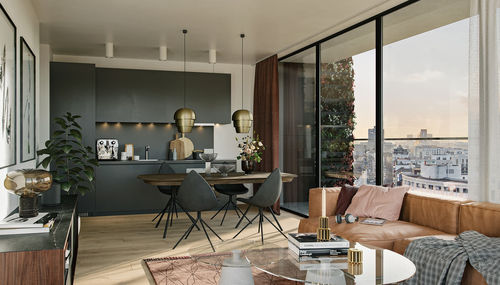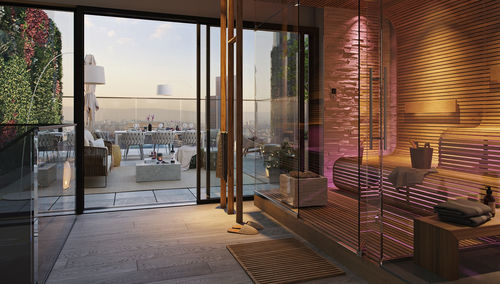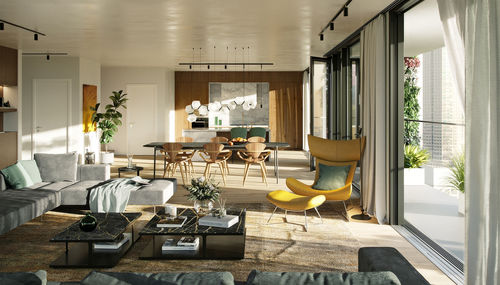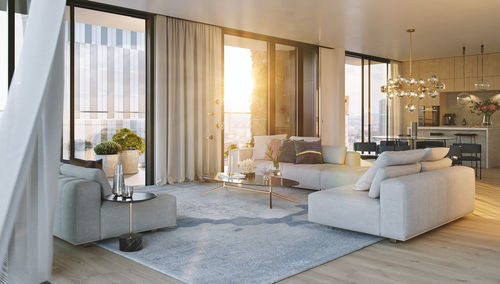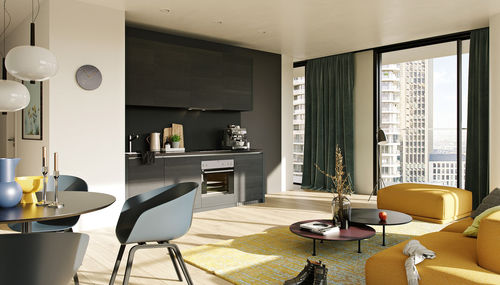 EDEN is unique. It combines striking architecture with clarity and sumptuous greenery. Verdant vertical gardens fuse with elegant glass façades to form a living masterpiece. And it is not only stunning on the outside: the interiors offer enticing possibilities and enchanting vistas. Floor-to-ceiling panorama windows in nearly every room afford breathtaking views of the city, creating an exceptional ambience full of natural light.
---
FIXTURES
+FITTINGS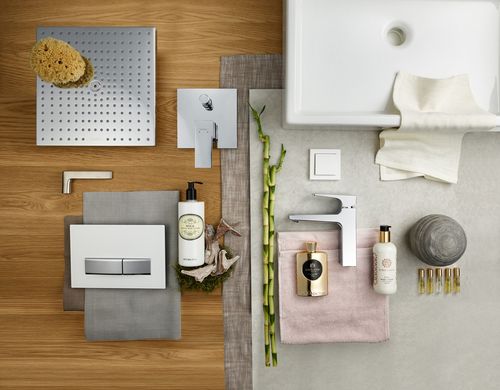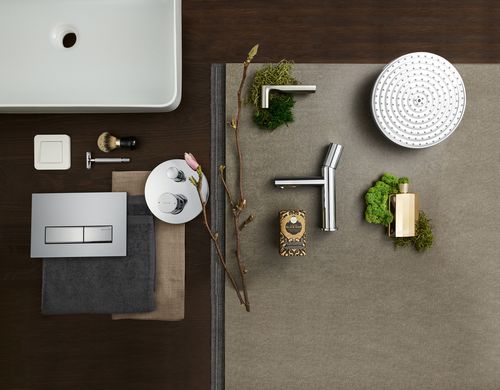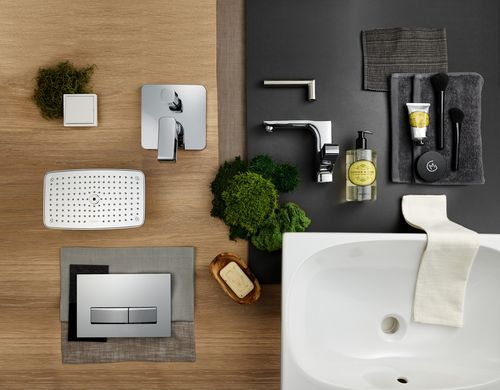 An interior of exquisite décor and premium features creates a whole new outlook, making EDEN an icon of sophisticated urban living. Realize your home style visions right down to the last detail using materials, fixtures and design elements that fulfill your standards for top-of-the-line quality with our three décor lines: Picea, Tilia and Betula.
---
Amenities
+ SERVICE
A design
With the soul
Of the season
DEDICATED 24/7
CONCIERGE
SERVICE
STYLISH
LOBBY-WARM
WELCOME
WORK OUT
AND GET IN
SHAPE
GREEN TERRACE
FOR FANTASTIC
VIEWS
EDEN offers a multitude of pleasing features and great attention to detail. There is a dedicated gym on the ground floor. The elegantly designed roof garden is a place to relax or to catch up with fellow residents for a sundowner. The 24/7 concierge service in the lobby ensures the level of comfort, security and meeting of personal needs - both big and small - offered by an upscale hotel.
---
GREEN
ARCHITECTURE
EDEN
GREEN ARCHITECTURE
FOR FRANKFURT
EDEN stands for the courage to break new ground and appreciation for the timeless beauty of nature. The passion for botany, plants, parks and greenery is deeply rooted in the history of Frankfurt. From the green belt and the banks of the river Main in the middle of the city to the Taunus and Odenwald mountains in the surrounding countryside, the region is a paradise for nature lovers. This love will now be found in the facade of this unique building
---
FEEL THE SPIRIT
OF URBAN DIVERSITY
As Germany's Global City, Frankfurt is always ready for change and renewal, visions and change. Here, people are cosmopolitans and focus on internationality and diversity. With the influences of university, art and culture, the green city on the Main is a dazzling metropolis full of esprit and quality of life. All of this can be found in the immediate vicinity of EDEN.
---
Location
Frankfurt
Am main
The good
Vibes of a
Global city
DEVELOPMENT
IMMOBEL
PROJECTS FOR
THE CITIES OF
TOMORROW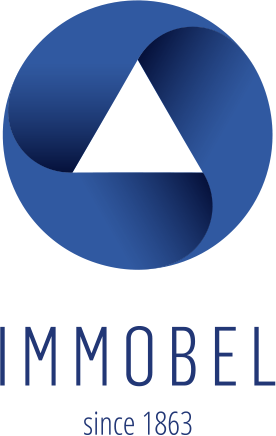 Ever since it was founded in 1863, IMMOBEL has been developing up to the point of becoming the largest real estate developer quoted on the Belgian stock market.
Without ever compromising on quality and on the major stakes allied to sustainable development, IMMOBEL today designs innovative real estate projects which respond to the most exacting standards of construction and of urban renewal.
IMMOBEL puts its team of almost 200 talented people at the service of institutions, private and public investors in order to launch and supervise their projects in Belgium, Luxembourg, Poland, France, Spain and Germany.
IMMOBEL also assumes its corporate responsibility by giving back a part of its profits in support of charitable projects in the Health, Cultural and Social Inclusion domains. The Group is implementing a sustainable vision for urban development and is working towards becoming a CO2-efficient company.
---
Contact
+ Information

Press contact:
Dietmar Müller
(DAFKO Deutsche Agentur für Kommunikation on behalf of Immobel Luxembourg)
T: +49-173-6733538
E: dietmar.mueller[at]dafko.de
Interior design:
by STUDIO architects
Düsseldorf